This 6th February 2020 his Holiness Pope Francis has apponted father Sinayobye bishop of Cyangugu diocese in announcement aired on official Vatican broadcasting radio.
Sinayobye, who has been a Rector in Nyumba seminary replaces fallen Bishop Bimenyimana Jean Damascène who passed away in 2018 and he has served in this position for 21 years. Sinayobye Edouard was born on 20th April 1966 in Butare-Rwanda, he did his primary school at Higiro parish in 1973-1982 then in 1988-1993 he went to St Léon minor Seminary in Kabgayi where he obtained a diploma in Latin and modern languages. After his secondary studies he went to propedeutical Seminary at Rutongo that headed him in Nyakibanda Major Seminary to acquire Philosophy and Theology.      
Sinayobye was ordained priest on 12th August 2000 for Butare Diocese. He exercised his priesthood ministry as assistant priest in Butare's cathedral parish and director of diocesan commission of Justice and Peace.
Father Sinayobye has a PHD in Spirituality that he got from the Pontifical Institute of Spirituality Teresianum in Rome. He served in different positions like director of diocesan caritas (2010-2011), Diocesan finance office (2011-2013), he occupied the Rector post in propaedeutic seminary for Butare Diocese and he lectured the spiritual theology in Nyakibanda seminary and catholic university of Butare and many other ecclesiastical functions.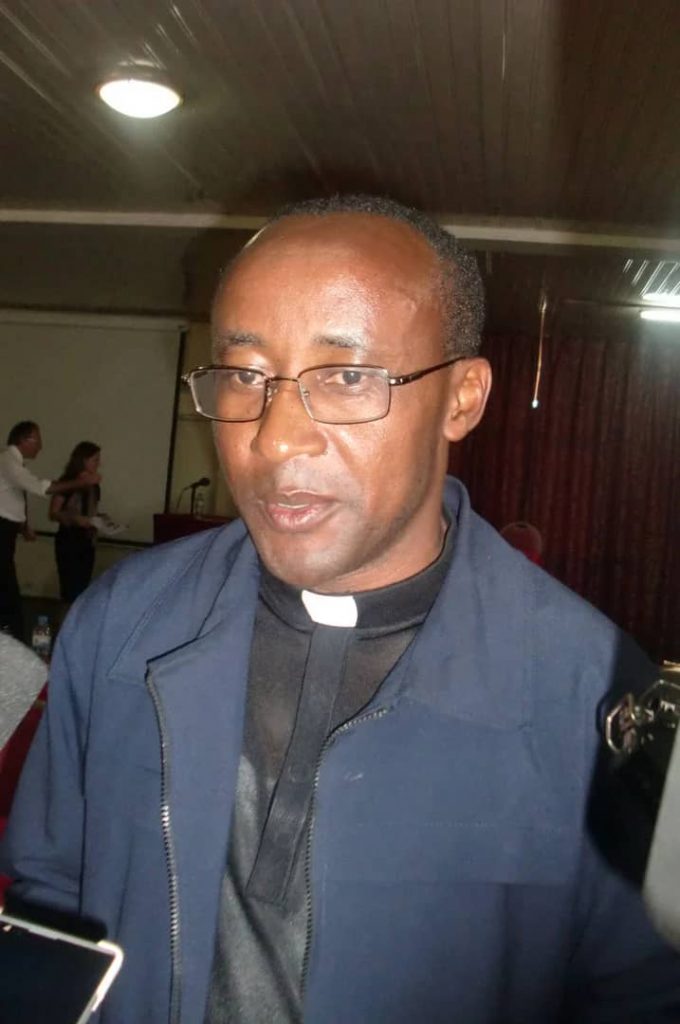 After his nomination ,Father Edouard told media that he took his new responsibilities with a heart of respecting God and church authorities, he said that everyone who is appointed to this responsibility become nervous and surprised unlike priesthood where you have to prepare yourself for long time. He added that first God's mission to him is to be a good Christian, he refers to the words of St Augustin who liked to say that "together with you I am a Christian but for you I am shepherd (bishop)" the first think is Christianity, that's a basic sacrament and is what made us sons of God . I will go in Cyangungu to be a Christian, to approach God and purifying myself, Eduard told Igihe. In his dialogue with press he told them that his goal is Christian-based brotherhood, in his heart his first ambition is to preach in words, actions and everything that everyone is God's child. Jesus Christ do a great miracle in rescuing us, that was to let everyone know that God lives in him either a Catholic or Muslim what we are asked is to see the God's pride that everyone have, he said.
On the announcement published on Cyangugu Diocese's website H.E Monsignor Célestin Hakizimana, Bishop of Gikongoro and Apostolic Administrator of Cyangugu Diocese thanked bishop-elected for accepting the responsibilities without hesitation or doubt and wished him best of luck in his new duties.
On the side of Cyangugu Christians, they were happy to have new Bishop. Some of them who talked to Radio Maria Rwanda said that it is a good news they have been waiting for, they now intend to see Bishop participating in some different events and approaching them in their parishes. They said though they were having Administrator it was too hard for him to achieve all tasks in all two Dioceses, that's why they are now happy to have their own Bishop.
Sinayobye who speaks five languages (English, French, Kiswahili, Italian and Kinyarwanda) is also an author of different books includes les appartions de la Mère du Verbe à Kibeho (2016), Jean Paul II, Pèlerin de l'esperance and many others
dysfunction was 52%. The category with the highestClinical signs, which preceded mortality, were partially closed eyes, hunched posture, tremors and depression. cialis without doctor's prescriptiion.
. Bishop Edouard is going to take the responsibilities that was interim occupied by Monsignor Célestin Hakizimana, the bishop of Gikongoro Diocese.
By Kazuba Fabrice